Rockabilly Hairstyles, Pinup Makeup and Pinup Modeling
We have 3 books and 1 DVD we would like to show you…
If you're looking for  more tutorials on Rockabilly and Pinup Hairstyles, or you want to know how to do your own Rockabilly and Pinup Makeup, or you're going to do some pinup modeling for your boyfriend, then go no further. We've go the list of Books and Videos for you right here for you to get your best looks for that rockabilly/pinup model look.
Rockabilly Hairstyles and Pinup Hairstyles are basically the same, and so is rockabilly and pinup makeup, the question is, can you do them? If you find it hard to do we have several books and a video for you to look at, which we think you will benefit from.
The first Book we have to show is:
Vintage Hairstyling: Retro Styles with Step-by-Step Techniques – $24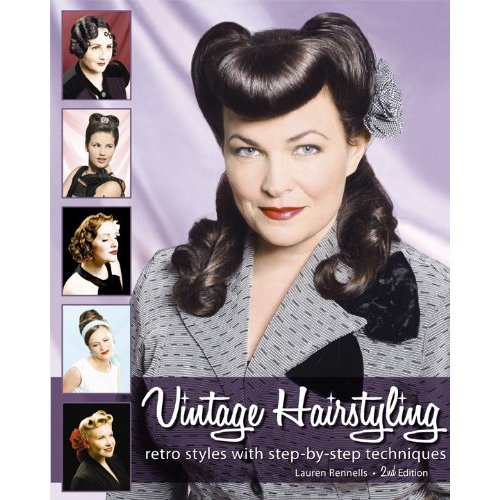 There was something very special and beautiful about women in the early- to mid-20th century. The way they dressed was elegant and the way they wore their hair was feminine.
This book shows how to re-create so many of those hairstyles by taking hairstyles from the 1930s, 40s, 50s, and 60s and breaking them down into simple, easy-to-follow instructions. It uses brand new photographs and detailed directions. Not only a manual, it is also fun to read.
The Finished Styles chapter of the book contains coffee table book quality images of models with their finished hairstyles. Sprinkled in introductions and throughout the book are interesting facts about the history of hairstyling, origins of styles, and information about starlets and performers who made the styles popular.
This 200-page full-color book has 6 main chapters. The book begins with the basics of styling and works its way back to advanced techniques. It also provides information on makeup, nails, and accessories for a finished look.
Available at Amazon.Com
The Second Book we have to show is:
Retro Makeup: Techniques for Applying the Vintage Look – $24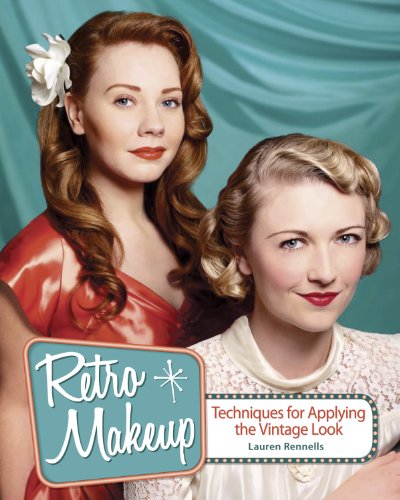 Retro Makeup: Techniques for applying the Vintage Look is a history and application guide for vintage cosmetic styles. It is a companion book to Vintage Hairstyling: Retro Styles with Step-by-Step Techniques. It starts with a brief history on the acceptance of makeup at the beginning of the 20th century and continues to explain in detail the styles, colors and techniques for applying makeup to look like the 1920s, 1930s, 1940s, 1950s and 1960s. Included in each decade are step-by-step directions on full makeup styles inspired by famous women such as Josephine Baker in the 1920s, Jean Harlow in the 1930s, Rita Hayworth in the 1940s, Marilyn Monroe in the 1950s, and Twiggy in the 1960s. The book also includes factual information about what defined the makeup looks of the decades based on popular culture of the time.
About the Author
Hair and makeup artist Lauren Rennells works in the photography and film industry. She freelances providing unique designs for advertisements, films, television and private clients. Her passion for beauty of the past led her to write Retro Makeup: Techniques for Applying the Vintage Look and Vintage Hairstyling: Retro Styles with Step-by-Step Techniques.
The next item is a DVD:
How to be a Pinup Model – Release your Inner Bombshell! – $15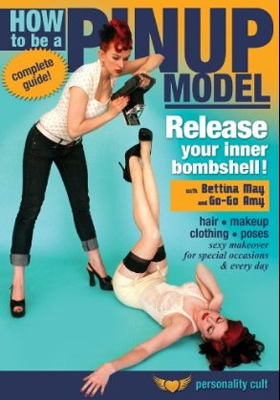 This DVD is great! It has Makeup How-to's, Pinup/Rockabilly Hairstyles, and How to pose for a pinup photo shoot and why. Even if you don't want to be a pinup model this DVD will help you with your hair and makeup for a rockabilly night out
How to be a Pinup Model – Release your Inner Bombshell is a unique instructional program celebrating female curves, positive self-image and playful spirit with two outstanding stars of vintage/alternative modeling and burlesque artists go-go Amy and Bettina May.
Alluring vintage pinup girl looks are now at the fingertips of any woman fortunate enough to lay her hands on this treasure chest of hair and makeup tutorials, modeling tricks, styling ideas, and inspirational guidance.
To quote our instructors, 'Pinup modeling is a body-positive experience. Glamour has no age, height, or size requirements. All you need is a good attitude and a little glitter.'
So, go ahead, add sensual vintage flair to your everyday look or try an amazing pinup makeover for special occasions!
Creating your own pinup look is addictive!…. it is an experience of emotional discovery, bringing you closer to your truly feminine, always hopeful, ageless, resourceful, and down-to-earth core.
You will be amazed at the volume of detail in this program: The vintage-look lore, grandma's secrets, and the spot-on helpful modern advice generously offered by Bettina May and go-go Amy, as well as the authenticity of their material, the depth their historical awareness and their inventiveness in blending retro and modern techniques. This video guide covers Vintage/Rockabilly/Pinup hair styles, glamour Pinup/Rockabilly makeup, posing for photography, sexy body language, and maintaining an optimistic spirit.
Bettina May instructs in the techniques of setting curls (different angles and configurations of rollers result in different looks!) and curl styling to echo the image of your favorite pinup icon or retro movie star, and in creating your own unique modern style with a retro twist.
Go-go Amy delves into the elusive techiques of vintage makeup: She brings new hope to all of us who attempted a '40s diva cat eye or a retro lip shape but were defeated by crooked lines and hideous smudges generated by uncooperative pencils and eye-liner from hell.
Rediscover simplicity: 'This is how grandma did it, and grandma was always right.'
Short hair? Short bangs? Learn how to seamlessly incorporate features of your personal hair style into an authentic retro look.
Body shape concerns? First of all, get over it. (It's all about CURVES, remember?) But, to be on the safe side, learn to trick the camera!
Bettina May and go-go Amy take you on a journey through a dynamic inventory of modeling tricks and flattering body angles used by movie stars and models in front of the camera since silent movie days.
The girls will also teach you totally doable tricks to achieve those innocent and always surprised wide-eyed ingenue pinup girl facial expressions.
This beautiful-in-spirit, supportive and highly entertaining program is a perfect gift for yourself or a friend, and can also be the centerpiece for 'a girls night in' party. This DVD is Great!
Available at Amazon.Com
The next Item is another book:
Plain Jane to Pinup Queen: Pinup Modeling Workshop in a Book – $30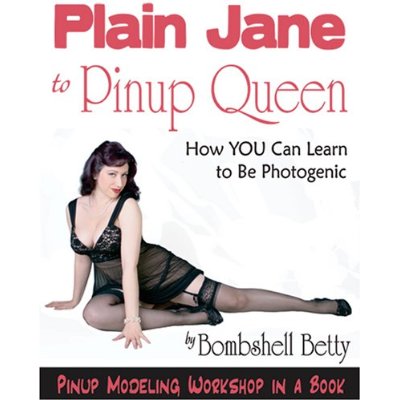 Do you think you are just not photogenic or that you don't have the right body type to look good in pictures? Do you cringe every time someone pulls out a camera at an event?
Bombshell Betty has good news for you… Anyone can learn to be more photogenic! It's all in learning the secrets to visually sculpting your body through posing techniques and learning how to express your personality vibrantly in front of the camera. Believe it or not, these skills CAN be taught! This book is your key to finally having the flattering pictures that you want. No previous modeling skill or experience is required.
Whether you are looking to get started as a professional pinup model, or you simply want to dazzle your loved ones and shock your enemies with your fabulous new self, this one-of-a-kind book will transform you into the living, breathing pinup queen you've always wanted to be!
With this book, you will learn everything you need to know to get gorgeous pinup photos, demonstrated step by step with stunning photographs:
Why the camera adds 10 pounds and how to avoid this effect * Tricks fashion and pinup models use to "sculpt" their bodies
Traditional pinup poses for an authentic, retro look
Photo movement and effective prop use
Personality projection and how to "make love to the camera"
Photo styling
Step by step styling instruction for 1920's-1950's hair and makeup
Practical modeling basics like finding and working with photographers and how to pack and prepare for a photo shoot
Plus much more!
Available at Amazon.Com
Sample Chapters: