Rockabilly On The Route 2016
Rockabilly On The Route 2016
Get your early Bird Tickets HERE
The 4th Annual Classic Car & Bike Show returns as part of Rockabilly On The Route 2016!! The Show is Saturday, June 4th as part of the four day festival. Roll on down to Tucumcari with your Classic Car, Vintage Bike, Rat Rod, Antique Car, Hot Rod or anything in-between and take part in the Show, Parade, Cruise on 66, Burn-Out and more as part of this years Festival. The biggest event of it's kind in New Mexico and on Route 66!
This years Rockabilly on the Route includes three nights of Headliner Shows at the Convention Center, the Burlesque Extravaganza, the Rockin' Bowl, the Pop-Up Drive-In, 3 nights of Midnight Madness Shows, Tiki Pool Party and more!
Be sure to see the flyers BELOW:
The Official Line-Up for the 4th Annual Rockabilly On The Route 2016!!
The Stray Cat Lee Rockerr
Lance Lipinsky & the Lovers
The Starlite Wranglers
Mad Max & the Wild Ones A Man Called Stu
Gilded Cage Burlesk & Varieté
Galactic Polecats
Danny B. Harvey
Whiskey Diablo
Tex Railer's Doomtown
Leah and her J-Walkers
THE SHADOW MEN
Jem Crossland & the Hypertonics
The Despots
Mr. Bonetangles and the Trubbanauts
Jordan Igoe
S.S. WEB
Rockin' Ryan And The Real Goners
She Returns From War
The Hexxers
Fabulous MinxGet Early Bird Festival Passes today, only $45, which get you into all 4 days, June 2-5, of Events, Concerts and More!! Our most action-packed year yet!!
Rockabilly on the Route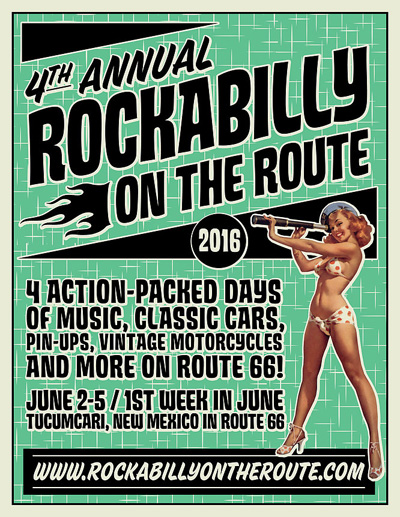 Vintage Motorcycle Show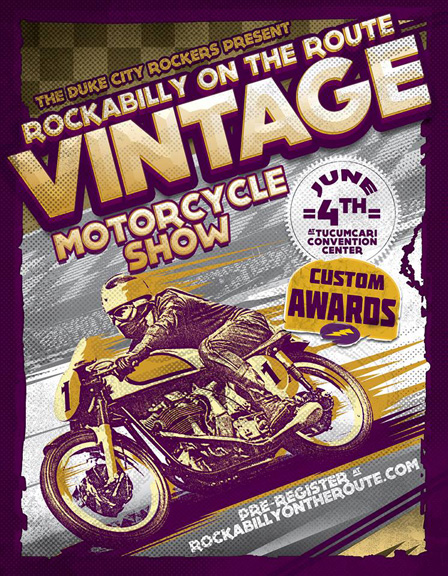 Rockabilly on the Route 2016 Car Show